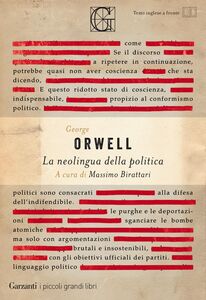 Il linguaggio pubblico non è mai stato così vuoto e aggressivo. Per questo è il momento di scoprire le riflessioni di Orwell raccolte in La politica e la lingua inglese (1946), uno scritto ormai classico che pare anticipare le considerazioni svolte venti anni dopo da Calvino sull'«antilingua» che corrompe l'italiano, e che nel suo «catalogo di frodi e travisamenti» prefigura la deriva dei social network. Per Orwell dallo stravolgimento delle parole alla manipolazione il passo è breve, come dimostra l'altro testo qui incluso: I principi della neolingua nasce come appendice del capolavoro 1984 ed enuncia, come scrive Massimo Birattari nella prefazione, le regole di una lingua «concentrazionaria, soffocante, terroristica». A più di settant'anni di distanza, da queste pagine limpide e feroci risuona ancora un monito che è rischioso ignorare: «la lingua diventa brutta e imprecisa perché i nostri pensieri sono stupidi, ma a sua volta la sciatteria della lingua ci rende più facili i pensieri stupidi».
Book details
Publisher

Language

Original language

Publication date

Page count

Edited by

Theme

Collection
About the author
George Orwell
George Orwell nasce nel 1903 in India. Ben presto la famiglia torna in Gran Bretagna e nel 1917 lui inizia a frequentare Eton. Dal 1922 al 1927 serve nella polizia imperiale indiana in Birmania e dalle vicende di questi anni trae spunto per il libro Giorni in Birmania (1934). Nel 1936 pubblica il romanzo Fiorirà l'aspidistra. Alla fine dello stesso anno parte per la Spagna, dove è scoppiata la Guerra civile e dove si arruola nelle fila dei repubblicani: Omaggio alla Catalogna è il resoconto di questa appassionante esperienza. Durante la Seconda guerra mondiale lavora per la bbc e scrive per alcuni giornali. Nel 1945 pubblica La fattoria degli animali che, insieme a 1984 (uscito nel 1949), gli conferisce fama mondiale. Muore a Londra nel 1950.

Reviews
No reviews have been written for this book.