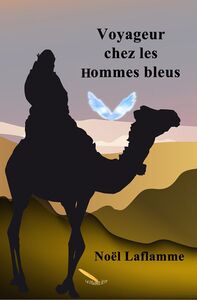 Une quête spirituelle mémorable en plein cœur du désert, et une fin… à votre goût. Conviendrait-il, selon vous, de reprendre sa vie à zéro? Un Voyageur aux aspirations spirituelles élevées prend le risque d'aller voir ailleurs...
Il voyage d'abord sur le vaste continent de l'Amérique du Nord, puis en Europe, dont il foule le sol pour la première fois. Il n'y trouve pas ce qu'il cherche. Il séjourne ensuite au Maghreb où, à Casablanca, un Berbère lui parle des Hommes bleus.
Et l'y voilà. Petit à petit, il se fait admettre au sein de leur société, en plus d'être pris sous l'aile du sage touareg du Pays des dunes.
Une à une, le Voyageur surmonte chaque épreuve qu'on lui impose: jeûne, scorpions, maniement de l'épée... Il fait l'apprentissage du tamasheq, participe à des joutes oratoires, se familiarise avec la spiritualité des Hommes bleus, puis crée des liens durables avec la belle Safia.
Un beau jour, alors que son esprit est imprégné des grandes vérités inspirantes des Hommes bleus et qu'il est sur le point de devenir l'un des leurs, le Voyageur a l'impression d'être soudainement pourvu de grandes ailes qui le mènent résolument vers les souveraines hauteurs. Mais est-ce seulement une impression?
Book details
Publisher

Language

Original language

Publication date

Page count

Theme

Audience
About the author
Noël Laflamme
Un homme né pour écrire. Cinquième d'une famille de treize enfants, Noël Laflamme est né en 1950 à Saint-Adrien-d'Irlande (Appalaches québécoises). Au début des années 70, il se joint au groupe musical ENCUENTRO, avec qui il effectue plusieurs tournées à travers le Québec. Entre 1975 et 1996, il enseigne le français aux immigrants dans les COFI, tant en Louisiane qu'en Ontario et à Montréal. Pendant ses séjours à l'extérieur du Québec, il a écrit des essais et des romans, dont plusieurs ont été publiés. Enfin, il possède un bac en traduction et un Certificat en création littéraire. Ses auteurs préférés sont Gérard Bessette, Loti, Hubert Aquin, Zola, Michel Tremblay, San Antonio et John Grisham.
Reviews
No reviews have been written for this book.