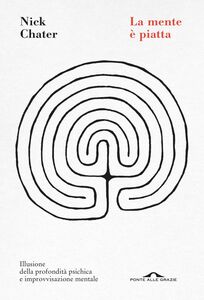 La mente è piatta
Illusione della profondità psichica e improvvisazione mentale
Nick Chater
Il libro che cambierà per sempre la vostra visione della mente.
«
Leggere La mente è piatta è come guardare The Truman Show e rendersi conto, mentre lo si sta guardando, di essere Truman… Entusiasmante… un libro sulla cognizione avvincente come un thriller. Anzi, direi di più: se si misura il valore di un libro da quanto spesso ti ritrovi a parlarne a cena, La mente è piatta è uno dei migliori libri che abbia mai letto
»
The Spectator
«
Probabilmente pensate di avere credenze, desideri, paure, una personalità, una "vita interiore", magari anche un subconscio. Fandonie, afferma Nick Chater. La vita interiore non esiste, il cervello se l'inventa là per là. Una superba esposizione delle ultime conquiste scientifiche.
»
The Guardian
«
Un assalto frontale alla persistente nozione psichiatrica e psicoanalitica di profondità mentale.
»
New Scientist
Davvero abbiamo un mondo interiore, fatto di imperscrutabili profondità, in cui risiedono le nostre autentiche credenze, desideri, percezioni, valori? In maniera radicale quanto persuasiva, basandosi sui più rilevanti risultati della letteratura scientifica contemporanea, Nick Chater, eminente scienziato cognitivo britannico, risponde in questo libro di no. La mente è piatta, appunto: non c'è nulla di nascosto, di sepolto dentro di noi; l'inconscio è un mito; le nostre più ferme e radicate convinzioni non hanno affatto radici, e possono essere sconvolte in un istante. Piuttosto, la nostra mente è una straordinaria improvvisatrice, capace di creare ogni volta, sul momento, idee, ragioni, pensieri. Un saggio affascinante, una teoria sconvolgente. Attraverso racconti, esperimenti, esempi, con uno stile al tempo stesso scientificamente inappuntabile e godibilissimo come nella migliore tradizione anglosassone, Chater ci guida a capire qualcosa di più di noi stessi e degli altri e, letteralmente, a cambiare idea su quasi tutto quel che pensiamo della psiche umana. Nella convinzione (e convincendoci) che rinunciare all'illusione della profondità non sia affatto una perdita, ma un necessario nuovo passo nella comprensione di quella straordinaria creatura pensante che è l'uomo.
Book details
Publisher

Language

Publication date

Page count

Translator

Theme

Collection
About the author
Nick Chater
Nick Chater è professore di scienze comportamentali alla Warwick Business School, dove ha fondato il Behavioural Science Group. Autore di oltre duecento articoli e di quattordici libri, è membro della British Academy e del Comitato sul cambiamento climatico del Regno Unito. La mente è piatta ha vinto nel 2019 il PROSE Award dell'Association of American Publishers come miglior libro di psicologia.
Reviews
No reviews have been written for this book.