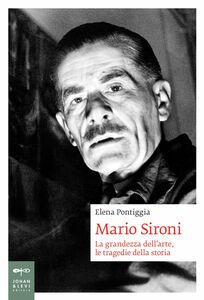 Mario Sironi
La grandezza dell'arte, le tragedie della storia
Elena Pontiggia
«L'arte non ha bisogno di riuscire simpatica, ma esige grandezza» ha scritto Sironi. Sono parole che si attagliano anche a lui, pittore di periferie inospitali eppure imponenti come cattedrali moderne. Futurista a partire dal 1913, Mario Sironi (Sassari 1885 – Milano 1961) negli anni venti ha espresso l'aspetto più duro della città e della vita contemporanea, ma insieme ha dato ai suoi paesaggi urbani la forza delle architetture classiche e alle sue figure la solennità dei ritratti antichi. Di una classicità moderna, è stato infatti uno dei maggiori protagonisti tra le due guerre: prima con il movimento del Novecento Italiano, che si forma a Milano nel 1922; poi con il sogno visionario di una rinascita dell'affresco e del mosaico. Amico personale di Mussolini e fascista della prima ora, Sironi ha dato forma nella sua pittura murale degli anni trenta alla dottrina nazionalistica e sociale del regime – non alle leggi razziali che non ha mai condiviso – ma il suo desiderio di ritornare alla Grande Decorazione antica gli era nato già durante la giovinezza trascorsa a Roma, quando, come diceva, passavano davanti ai suoi occhi «gli splendidi fantasmi dell'arte classica». Del resto la sua arte, potente e dolorosa, non diventa mai un'arte di Stato. La vita non ha risparmiato Sironi: la perdita del padre a tredici anni, le crisi depressive, la guerra; poi la miseria, la contrastata vicenda familiare, le polemiche sulla sua pittura, i ritmi di lavoro massacranti che gli minano la salute; la caduta del fascismo, il crollo dei suoi ideali politici e un'esecuzione sommaria evitata in extremis (grazie all'intervento di Gianni Rodari, partigiano ma suo estimatore); infine la perdita della figlia Rossana, suicidatasi a diciotto anni nel 1948. Tuttavia la sua pittura oppone alle tragedie dell'esistenza e della storia un'ostinata volontà costruttiva. Almeno fino alla stagione ultima quando Sironi, svaniti sogni e illusioni, dipinge città frananti e visioni dell'Apocalisse.
Book details
Publisher

Original text

Yes

Language

Publication date

Page count

Theme

Collection

Series
About the author
Elena Pontiggia
Elena Pontiggia, storico dell'arte, è docente all'Accademia di Brera. Si occupa in particolare dell'arte internazionale fra le due guerre e del rapporto fra modernità e classicità. Collabora alla Stampa e a varie riviste. Tra i suoi ultimi volumi: Hopper (2004); Modernità e classicità. Il Ritorno all'ordine in Europa (2008, premio Carducci 2009); Christian Schad (2015). Per Johan & Levi ha pubblicato la biografia di Mario Sironi e Arturo Martini.
Reviews
No reviews have been written for this book.