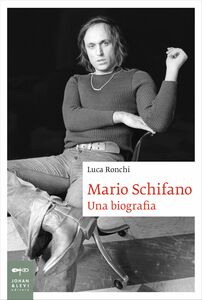 «Mi conoscono anche quelli che non mi conoscono, quindi inventate quello che volete»: così Mario Schifano era solito allontanare gli aspiranti biografi che lo assediavano. Tanto che al giorno d'oggi uno degli artisti italiani più prolifici e amati – nonché falsificati e chiacchierati – del xx secolo paradossalmente è anche uno dei meno conosciuti. Attraverso una narrazione a più voci delle persone che lo hanno "vissuto", seguito e sopportato, Luca Ronchi ci offre una possibile biografia di Mario Schifano, con tutti i lati oscuri, le sorprese, le debolezze e l'intimità di un personaggio ormai entrato nella leggenda. Lo scenario del viaggio nel tempo propostoci da Ronchi non può che essere Roma, il «paesone cosmopolita» che durante la guerra accoglie Schifano ancora bambino di ritorno dalle bianche spiagge della Libia. Sotto gli indimenticabili cieli della Città Eterna, sulla terrazza di piazza Scanderbeg che fungeva da studio en plein air, nei primi anni sessanta Mario inizia a dipingere quei monocromi che lo renderanno uno dei protagonisti dell'arte italiana del Novecento. Ed è sempre a Roma che decide di continuare la sua avventura pittorica e di costruire, in un vortice di «lucida follia», il suo universo underground all'insegna della trasversalità e del "meticciamento". Fonda un gruppo pop-rock; si cimenta in filmati all'avanguardia; frequenta intellettuali e aristocratici; cambia macchine, abiti e televisori con una rapidità sconvolgente; viene arrestato e "messo alla gogna" per il consumo di sostanze stupefacenti: simile a «un piccolo puma di cui non si sospetterebbe mai la muscolatura e lo scatto, molto elegante nei movimenti e nei comportamenti», Schifano era da tutte le parti, non stava mai fermo. Dotato di un fascino innato e di una «bellezza alla Rodolfo Valentino», è anche un grande seduttore: da dive come Marianne Faithfull o Maria Schneider alle sue tre donne più importanti Anita Pallenberg, Nancy Ruspoli e Monica De Bei, la madre di suo figlio. Forse nell'immaginario popolare Schifano resterà sempre l'incarnazione perfetta della concezione romantica che vede nell'artista genio e sregolatezza. Oltre la fama, però, spenti i flash delle cronache mondane c'è un pittore ancora tutto da scoprire che negli ultimi tempi amava citare una frase di Lucian Freud: the man is nothing, the work is everything.
Book details
Publisher

Original text

Yes

Language

Publication date

Page count

Theme

Collection

Series
About the author
Luca Ronchi
Luca Ronchi (Milano 1955) è produttore televisivo e regista cinematografico. Dopo essere stato negli anni settanta assistente del pittore Mario Schifano, si è dedicato al cinema e alla televisione. Regista di film d'arte ha realizzato recentemente una biografia filmata di Tano Festa.
Reviews
No reviews have been written for this book.