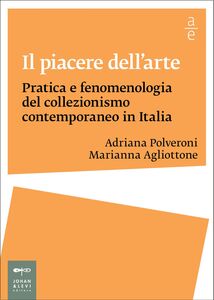 Come un bacillo virulento che si propaga in modo incontrollato, il collezionismo può indurre chi ne è affetto a veri e propri eccessi, come sgomberare case per lasciare posto alle opere o dilapidare interi patrimoni per una voglia di possesso così forte da diventare difficilmente governabile. Che cosa ne accende la scintilla? Propensione alla speculazione finanziaria, puro piacere intellettuale o il desiderio di diventare "qualcuno" poggiando sull'arte le fondamenta del proprio prestigio sociale? Se molti sono i motivi e gli approcci possibili, da quello militante a quello passionale, mettere insieme una collezione rappresenta comunque un percorso di conoscenza verso la scoperta di sé. Il piacere dell'arte offre un quadro del collezionismo contemporaneo in Italia, che in tempi recenti ha assunto un passo sempre più autorevole non solo per l'intraprendenza delle iniziative, ma anche per la crescente progettualità che caratterizza molte raccolte. Partendo da fondamentali cenni storici, indagando quindi l'humus in cui sono emerse figure di spicco come Giorgio Franchetti, Giuseppe Panza e Marcello Levi e lasciando infine la parola ai protagonisti contemporanei, il libro mira anche a identificare le cause di una "mancata modernità" del collezionismo italiano, imbrigliato da vincoli come la notifica e un'IVA fra le più alte d'Europa. Se tali impedimenti burocratici e fiscali da un lato frenano il dialogo con le istituzioni (a differenza di quanto accade oltreoceano dove le donazioni ai musei sono incentivate da sgravi), dall'altra danno luogo a un forte sviluppo dell'iniziativa privata favorendo l'apertura al pubblico di numerose fondazioni. È questo il tratto più peculiare del panorama italiano, una realtà complessa e ricca di sfaccettature le cui potenzialità risultano tanto più interessanti da indagare quanto più essa presenta una declinazione sociale e un carattere di organicità.
Book details
Publisher

Original text

Yes

Language

Publication date

Theme

Collection

Series
About the author
Adriana Polveroni
Adriana Polveroni è giornalista e critica d'arte. Insegna Museologia del contemporaneo presso l'Accademia di Brera di milano e svolge attività didattica presso varie Università e Accademie italiane. Tra gli ultimi volumi pubblicati si segnalano: This is contemporary! Come cambiano i musei d'arte contemporanea (2007) e Lo Sboom. Il decennio dell'arte pazza tra bolla finanziaria e flop concettuale (2009), oltre a numerosi saggi in volumi collettanei e in cataloghi. Dal 2012 è direttrice di Exibart.
Marianna Agliottone
Marianna Agliottone è curatrice e critica d'arte. Da tempo svolge attività di consulenza editoriale e per il collezionismo privato. Ha fondato e curato numerose rubriche dedicate al collezionismo d'arte e collaborato con numerose riviste di settore tra cui Arte e Critica e Frieze. E' stata vicedirettore di Exibart. Attualmente collabora alla sezione Plus24-ArtEconomy24 de Il Sole 24 Ore e alle pagine dell'arte di Riders Italian Magazine mensile di Hearst Magazines Italia.
Reviews
No reviews have been written for this book.