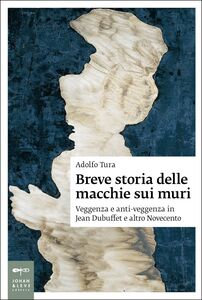 Breve storia delle macchie sui muri
Veggenza e anti-veggenza in Jean Dubuffet e altro Novecento
Adolfo Tura
Un giorno fra i tre e i due milioni e mezzo di anni fa un australopiteco si aggirava nella valle di Makapan, in Sudafrica, quando qualcosa all'improvviso attirò la sua attenzione. Era un ciottolo di diaspro, il cui aspetto, modellato dal lavorio degli agenti naturali, lo rendeva simile a un cranio umano. Tre cavità su una superficie rotonda ed ecco apparire un volto: in un mondo che fino a quel momento si era limitato alla pura esistenza, nasceva per la prima volta un'"immagine". L'attitudine a scorgere figure nei sassi o nelle nuvole presuppone una facoltà innata nell'uomo, quella di fraintendere la realtà con saggezza, attribuendole un senso. Dal Paleolitico in poi questo delirio d'interpretazione, per dirla con Dalí, non ha cessato di avere ripercussioni sulla produzione artistica, facendo di chi lo pratica un "veggente". Ma se è vero che negli sputi sulle pareti di un ospedale Piero di Cosimo riusciva a scorgere addirittura delle scene di battaglia, nel Novecento si manifesta anche un movimento opposto: lasciando che sia la figura a degenerare in macchia, si aprono le porte dell'anti-veggenza. L'ossessione di Max Ernst per le screpolature del legno, materia informe e viva per i suoi celebri frottages, e la predilezione di Pierre Bonnard per le scene domestiche in cui i contorni abituali si dissolvono nell'illeggibilità si rivelano così facce della stessa medaglia. Due tendenze che trovano un anello di congiunzione nell'opera di Jean Dubuffet, che con le sue impronte, frutto della casuale impressione di briciole, sale e polvere su una lastra, e le sue testure – in cui anche una barba finisce per essere un'esperienza di visione incongruente –, ha dato corpo alla disposizione dell'arte contemporanea a scompaginare lo sguardo sul reale. E proprio facendo di Dubuffet il suo filo rosso, Adolfo Tura, in maniera acuta e imprevedibile, insegue i mille rivoli – arte, filosofia e letteratura tra gli altri – in cui veggenza e anti-veggenza affiorano come strumenti all'apparenza antitetici ma in grado di sussurrare risposte alla stessa inquietudine novecentesca.
Book details
Publisher

Original text

Yes

Language

Publication date

Page count

Theme

Collection

Series
About the author
Adolfo Tura
Studioso e curatore, Adolfo Tura ha conseguito un dottorato di ricerca in Scienze storiche e filologiche presso l'École Pratique des Hautes Études di Parigi, dove ha svolto per diversi anni attività di ricerca.
Reviews
No reviews have been written for this book.