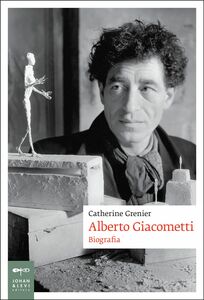 «Sorride. E tutta la pelle grinzosa del suo viso si mette a ridere. In uno strano modo. Non solo gli occhi ridono, ma anche la fronte. Tutta la sua persona ha il colore grigio del suo atelier. Per simpatia, forse, ha preso il colore della polvere.» Con queste parole Jean Genet, modello prediletto, descrive Alberto Giacometti, scultore irriducibile, un carattere che gli anni travagliati e il lavoro ossessivo hanno scolpito sul suo volto. L'attività nello studio di rue Hippolyte-Maindron, del resto, è molto intensa: a varcarne la soglia si assiste all'incessante lavorio sulle figure, che Giacometti distrugge e ricostruisce senza requie, in un'estenuante ricerca della perfezione, un oscillare tormentoso fra un ideale a cui tendere e i tentativi abortiti, un andirivieni di dubbi e ripensamenti. Pochi secondi fa rideva, ora tocca una scultura abbozzata e, rapito dal contatto delle dita con la massa di argilla, non si cura più di chi ha di fronte. Nato nel 1901 a Borgonovo, Alberto trascorre la giovinezza nello spazio aspro e familiare della Svizzera, con il padre che lo inizia all'arte fin dalla più tenera età e segue passo passo la sua carriera offrendogli incoraggiamento e sostegno. Nel 1922 si trasferisce a Parigi, dove compie i primi passi sotto la guida di Antoine Bourdelle e Zadkine, affrancandosi però ben presto dai suoi mentori per avvicinarsi, seppure per una breve fase, al Surrealismo di Breton e al Cubismo. Lo spirito ribelle, che segna tutta la sua ricerca e il suo passaggio attraverso le avanguardie, lo porterà a intraprendere un cammino solitario, ai margini del mondo dell'arte, nonostante le assidue frequentazioni con gli intellettuali più celebri dell'epoca nei caffè del Quartiere latino e di Montparnasse. Sedotto dalle arti primitive, approderà a una rappresentazione più sintetica e allucinata, dando vita a una schiera di figure vacillanti e in perenne cammino, che lo consacreranno sulla scena internazionale. «Non lasciarmi influenzare, da niente» annota in uno dei suoi taccuini: Alberto Giacometti appartiene a un tempo senza tempo, ciò che caratterizza l'essenza più autentica dell'arte.
Il volume è pubblicato in formato solo testo
Book details
Publisher

Original text

Yes

Language

Publication date

Page count

Theme

Collection

Series
About the author
Catherine Grenier
Catherine Grenier è direttrice della Fondation Giacometti di Parigi, nella cui veste ha curato importanti retrospettive sull'artista. È autrice di numerosi libri, tra cui Christian Boltanski (2010), Annette Messager (2012) e Dalí. L'invention de soi (2013).
Reviews
No reviews have been written for this book.